Breast tomosynthesis is not significantly different from standard digital mammography
09. 09. 2019 | Institute of Biostatistics and Analyses at the Faculty of Medicine of the Masaryk University (IBA FM MU)
---
Digital breast tomosynthesis (DBT) is not significantly different from standard digital mammography as a screening tool for the detection of breast cancer in a population-based screening programme. The results of a Norwegian study were published in June 2019 in
The Lancet Oncology
[
1
].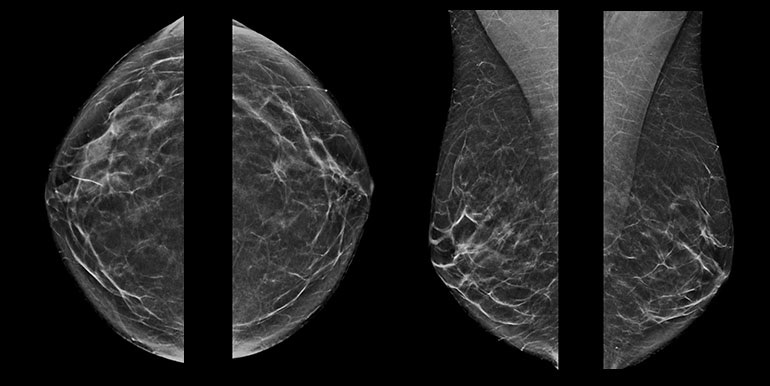 Case courtesy of Dr Craig Hacking, Radiopaedia.org. From the case rID: 65325.
Digital breast tomosynthesis is an advancement of mammography, and has the potential to overcome limitations of standard digital mammography. The study carried out by Norwegian researchers aimed to compare first-generation digital breast tomosynthesis including two-dimensional (2D) synthetic mammograms versus digital mammography in a population-based screening programme.
BreastScreen Norway offers all women aged 50–69 years mammographic screening every 2 years. The researchers asked almost 33,000 women who attended the programme in Bergen in 2016–2017 to participate in the trial. A total of 28,749 women were included in the analysis (14,380 in the digital breast tomosynthesis group and 14,369 women in the digital mammography group).
The primary outcome of this trial was to determine whether the proportion of screen-detected breast cancer was favourable for digital breast tomosynthesis versus digital mammography. Breast cancer was defined as histologically verified ductal carcinoma in situ or invasive breast cancer, or both. The results showed that the proportion of screen-detected breast cancer among the screened women did not differ between the two groups.
The authors concluded that digital breast tomosynthesis including synthetic 2D mammograms was not significantly different from standard digital mammography as a screening tool for the detection of breast cancer in a population-based screening programme.
Reference
Hofvind S, Holen ÅS, et al. Two-view digital breast tomosynthesis versus digital mammography in a population-based breast cancer screening programme (To-Be): a randomised, controlled trial. The Lancet Oncology 2019; 20(6):795-805. doi: 10.1016/S1470-2045(19)30161-5
Keywords: breast tomosynthesis, digital mammography, population-based breast cancer screening programme, screen-detected breast cancer