Mammography exam: how is it performed?
A mammogram is an X-ray picture of the breast. Doctors use a mammogram to look for early signs of breast cancer. Regular mammograms are the best tests doctors have to find breast cancer early, sometimes up to three years before it can be felt.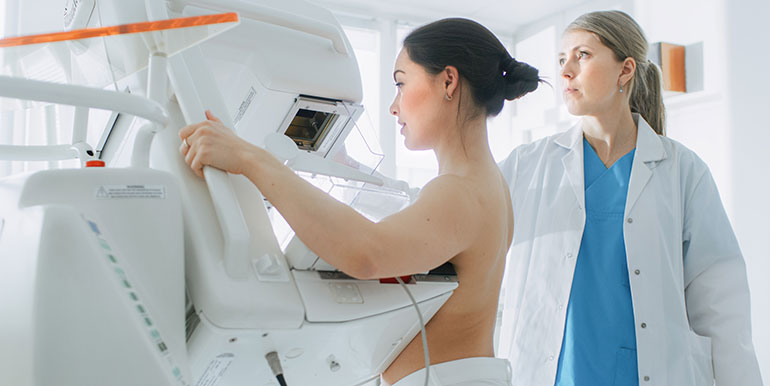 Image credit: shutterstock.com
You will stand in front of a special X-ray machine. A technologist will place your breast on a clear plastic plate. Another plate will firmly press your breast from above. The plates will flatten the breast, holding it still while the X-ray is being taken. You will feel some pressure. The steps are repeated to make a side view of the breast. The other breast will be X-rayed in the same way. You will then wait while the technologist checks the four X-rays to make sure the pictures do not need to be re-done. Keep in mind that the technologist cannot tell you the results of your mammogram. Each woman's mammogram may look a little different because all breasts are a little different.
Having a mammogram is uncomfortable for some women. Some women find it painful. A mammogram takes only a few moments, though, and the discomfort is over soon. What you feel depends on the skill of the technologist, the size of your breasts, and how much they need to be pressed. Your breasts may be more sensitive if you are about to get or have your period. A doctor with special training, called a radiologist, will read the mammogram. He or she will look at the X-ray for early signs of breast cancer or other problems.
Quick links